Denali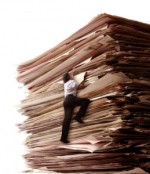 Thrilled to have a whole slew of new work to consider for our upcoming season. Writers include Brooklynites in Dublin, Brummies in Belfast, and folks from as far-away-off as Liverpool, Wales, Hawaii and Israel. (True potential for script-development Skypeage in our future. How now.) Only today I was in a brain-injury rehabilitation centre and on the set of a horror film. And 'slew'? Oh aye. We're talking mountainous stacks ...
A'ight, so it's not THAT overwhelmingly legworky - pleasantly whelming, though. Sixty submissions, where previous years have been closer to sweet sixteen. My tendency to attempt doing six-point-four things simultaneously (like putting together a fifteen-minute play festival at the Ulster Hall including ten N./Irish companies - more news on that soon) might mean I'm in a touch of denial about how much there is to do. Luckily, in Lisa Keogh, Michael Shannon, Gayle Dennison and Richard Lavery I have four outstanding fellow scrutinizers, so all writers can still expect a bit of feedback no matter what the outcome.
Thanks for your patience. See you on the other side.